Arts and Business Alliance of Eugene (ABAE)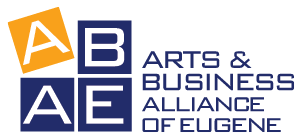 Inspiring dynamic partnerships between the arts, education, public and business sectors.
---
Description of Services: The Arts & Business Alliance of Eugene is a partnership of the City of Eugene, Eugene Area Chamber of Commerce, Lane Community College, University of Oregon, and Travel Lane County. Together, we create new and innovative ways for local businesses to join with Eugene's vibrant arts sector, to support the long-term economic health and livability of our community.
Fee Structure: fee-based services | sponsorship opportunities
Service Area: Eugene
---
Contact: Kelly Johnson, Executive Director
Email: director@artsbusinessalliance.org
Phone: 541-242-2364
Website: artsbusinessalliance.org
---
Areas of Support:
Cat terms for search – 3 – Expansion | 4 – Maturity | 5 – Renewal | Networking | Partnerships