About Us
We help Lane County's small businesses succeed.
Welcome to Our Center!
The Lane Community College Small Business Development Center (SBDC) is the premier provider of real world business education, advising, and mentoring for small businesses in Lane County.
Our team is passionate about assisting you in achieving business success, through the use of the latest technology, business education, advising, and mentoring.
Our advisors' provide free, confidential, one-on-one business advising, that will help you explore opportunities while overcoming challenges.
By assisting innovative entrepreneurs, we are committed to seeing our small business community thrive. As our client, you gain access to powerful research tools and insights that are often reserved for much larger companies.
Knowledge is power. Whether you choose a basic workshop or an advanced course, our world-class providers from a variety of business disciplines, are here to assist you.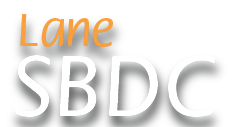 We Are Building
Lane County's
Best Businesses!
Assisting businesses in:
confidence building,
creating new jobs,
accessing capital, and
growing sales,
which improves the economic vitality of our communities.
Connect with us here or by phone at 541.463.6200.
Oregon Small Business Development Centers are funded in part through a cooperative agreement with the U.S. Small Business Administration, and by the Oregon Business Development Department. Lane Community College is the primary funding agent. Programs and services are provided to the public on a non-discriminatory basis. Language assistance services are available for limited English proficient individuals. 
Lane Community College 
Small Business Development Center
101 W. 10th Ave., Ste. 304, Eugene OR 97401
541.463.6200 
Lane is an AA/EEO/Veterans/Disabilities Employer. 
All Rights Reserved. ©1983 - 2018, Lane Community College SBDC