Below are a few questions and answers that have been asked previously. If you don't find what you are looking for, please send us an email or give us a call.
What Are Client's Expectations?
Lane SBDC Client Expectations:
Our advisors are here by appointment only. We ask that you keep the advising appointments or call and reschedule. If three advising sessions are missed without notification, we will not make further appointments for you.
Our advisors will continue to work with you as long as you are following through with your commitments and moving forward.
Be respectful and positive with your advisor.
You will fill out an evaluation at the end of each session.
You have the right to request to see another advisor.
What is the SBDC's Confidentiality and Code of Conduct Statement?
Each SBDC Staff Member is required to sign a conflict of interest and standards of conduct form each year on condition of employment. Below is what this entails.
CONFLICT OF INTEREST – STANDARDS OF CONDUCT
Conflict of Interest Statement:
As a condition of my work with the Small Business Development Center (SBDC) of  Lane Community College, I understand and agree that I will adhere to the following conditions:
I will not recommend to the SBDC or its clients the purchase of goods or services from sources in which I or an immediate family member have an ownership interest, officer position, director position or other financial, contractual or managerial interest.
I will not solicit or accept, or appear to solicit or accept any gift, loan, reward, equity in a business, compensation, monetary remuneration, promise of future employment, favor, or service in return for services performed for the SBDC and its clients. Note: Per ORS 244.025, I understand that in a calendar year, I may accept a gift valued under the amount of $50.
I will not solicit or accept, or appear to solicit or accept any gift, loan, reward, equity in a business, compensation, monetary remuneration, promise of future employment, favor, or service in return for recommending any goods or services to the SBDC and its clients.
I will not solicit private consulting/counseling engagements or other business from SBDC clients or anyone seeking counseling from the SBDC.
I will disclose to the State Director or her/his designee all employment/self-employment other than my employment/contracting with the SBDC and/or its host institution, if these engagements involve business counseling, business training, loan packaging, or other business assistance services. Furthermore, I will provide the State Director with an additional statement detailing how these activities are clearly delineated from SBDC duties and responsibilities upon request.
I will disclose to my supervisor any potential conflict of interest that arises and ask the supervisor to remove the conflict before taking any action in my public official capacity that may result in financial gain or avoidance of financial detriment to me, my family members or any business interest in which I am invested.
I may accept unsolicited private consulting/counseling engagements or other business from SBDC clients or anyone seeking counseling from the SBDC only with a fully executed SBDC Client/Advisor Release form.
I will not disclose or use any confidential information pertaining to an SBDC client or anyone seeking counseling from the SBDC.
I will maintain high standards of professional conduct.
I will not invest in the business of any active SBDC Client (within six months of client counseling activity) while employed by SBDC.
I will not advise any client that is a relative (as defined by the Oregon Ethics Commission Guide for Public Officials). A relative may receive counseling at another Center.
I will comply with this policy as well as all conflict-of-interest policies and standards-of-conduct codes of Lane Community College,
I have read and discussed this policy and the attached SBDC Client/Advisor Release form, which is incorporated by reference, with my supervisor/SBDC Director. I understand that failure to comply with any of the policies set forth herein could constitute grounds for severance of my association with the SBDC and possible legal action or other remedies against me, as well as the potential forfeiture of my employer's Subcontract with OSBDCN. (This agreement shall not alter or modify any employment agreement or Collective Bargaining Agreement in existence between the parties.)
Where Can I Park?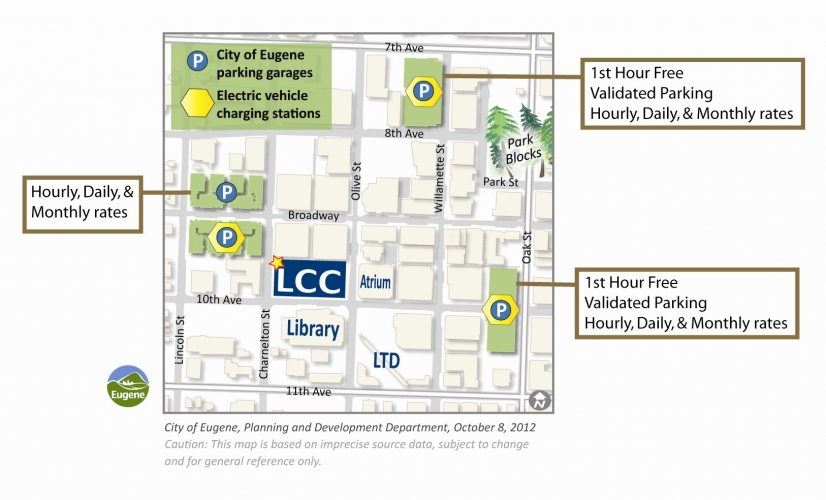 City of Eugene Downtown Parking:
Two-hour, free on-street parking between 7th Avenue to 11th Avenue from Lincoln Street to Willamette Street (Monday through Saturday from 7 am to 6 pm) is available.
First-hour, free parking during the week and all day free parking on the weekends in the Overpark and Parcade parking garages, except during signed events.
Parking validation:
Parking validation is provided to students by individual departments for the Overpark Garage, located at 10th and Oak Street. Parking validation coupon must present to validate.
iPhone/iPad:
ePark, iPhone app lets you track your location in real time and see available on- and off-street parking managed by the City of Eugene.
Parkmobile, iPhone app lets you pay for parking in many downtown locations using your cell phone.
Android Phones and Tablets:
Parkmobile Android app allows you to pay for parking in many downtown locations using your cell phone.
Another alternative is to contribute to Eugene's sustainability initiative by riding an LTD bus into Eugene. We are close to the Downtown Eugene Station. Refer to LTD.org for route information. Or, you can ride your bicycle to the Center. There are 74 exterior bike parking spots.
When Is the College Closed for Holidays and Inservice?
The SBDC follows the Lane Community College holiday and college closure dates.
Holidays Observed:
November 10, 2017 – Veterans Day
November 23-24, 2017 – Thanksgiving
Christmas and New Years Break:
     Students: December 10, 2017 – January 7, 2018
     SBDC Closed: TBA
January 15, 2018 – Martin Luther King Jr.'s Day
February 19, 2018 – President's Day
May 28, 2018 Memorial Day
July 4, 2018 – Fourth of July
September 3, 2018 – Labor Day
Summer Hours Reduced:
End of June-End of August on Fridays
Closed for College In-service:
September 21, 2017
May 4, 2018
How Do I Pay My Bill for Training?
How Do I Pay My Bill?
Payment Timing:
Lane does not have a formal "payment plan" process, however you may pay your bill in smaller installments on your own accord.
The first due date for your bill will be the 15th of the first month of your term. Any amount still on your bill at the end of that date will be assessed a 2% late fee the following business day. The same will occur the following month.
Important! Even though Lane allows you to carry a balance later in the term, with each due date being the 15th of the month, if you still have a current term balance just prior to "Open Registration" for the following term, any future term registrations will be purged (cancelled), and you will have a hold preventing further registration until the current term is paid. Any bill that goes beyond 91 days past due is subject to collections, which can cause you to have further delays.
There are many ways to pay your bill at Lane:
Online: At Lane, the best way to pay is online through myLane! It's fast, free, secure, and you can do it from anywhere you have Internet access. On the Home Page of myLane, you will find your account balance in the upper right hand corner. If there are charges for more than one term, these will be listed separately. Just below, you will find a link that says "Make an Online Payment". You will be taken to a secure third party site called Touchnet. Log in using your L number (with a capital "L") and your myLane passphrase (even though it says "PIN").
Parent or Spouse: You can set up a parent or spouse as an authorized "third party payer" if you login to your own myLane account and login from there to the payment system. (Do not give another person access to your myLane account, even a parent or spouse).
Drop Box: You can put payments by check in the Enrollment and Student Financial Services Drop Box near the front of the lobby in Building 1 on the Main Campus. (Please use this for checks only, do not put cash in the Drop Box)
In Person: You can pay by check, cash, or money order/cashier's check in person at Enrollment and Student Financial Services in the lobby in Building 1 on the Main Campus.
Mail: The mailing address for payments is: Lane Community College /Bursar PO Box 50850,  Eugene, OR 97405-0999 Be sure your L number is included with any payments! Please be sure you know how you will pay your bill before the end of the refund period for each term, so you don't end up unable to meet the deadlines. Drop your classes by the end of the first week of the term if you don't have the ability to pay. If you expect financial aid, but have any holds, requested information not yet reviewed, or appeals, be sure you have a backup method to pay just in case financial aid isn't ready in time.
For your own protection, Lane does not accept payments by phone.
What Are the Requirements for Refunds and Withdrawals?
Refunds and Withdrawals:
If you choose to not attend a class or workshop, it is your responsibility to withdraw from the class or workshop.
Any class or workshop scheduled for less than 10 weeks must be dropped a minimum of three business days prior to the first session by calling the LaneSBDC, 541.463.6200.
Classes scheduled for 10 weeks or more must be dropped no later than the end of the first week of class.
For drops after the start date, there is no guarantee of refund or credit to your account. Your written request will be considered and you will be notified once a decision is made. Note: Refunds are generally given when there is sufficient documentation of medical or extenuating circumstances constituting an emergency.
How Do I Sign Up to Teach a Class or Workshop?
Contact us at 541.463.6200 to schedule an appointment to present your idea. Please bring an outline of what you would like to present and what the benefits would be for our small business clients, to your meeting.
How Do I Suggest a Class to Be Offered?
You can send an email to LaneSBDC@lanecc.edu or call us at 541.463.6300. We will be happy to take note of your request.
How are Winter Weather Closures Handled?
We follow the Lane Community College weather conditions and closures procedures.
Oregon Small Business Development Centers are funded in part through a cooperative agreement with the U.S. Small Business Administration, and by the Oregon Business Development Department. Lane Community College is the primary funding agent. Programs and services are provided to the public on a non-discriminatory basis. Language assistance services are available for limited English proficient individuals. 
Lane Community College 
Small Business Development Center
101 W. 10th Ave., Ste. 304, Eugene OR 97401
541.463.6200 
Lane is an AA/EEO/Veterans/Disabilities Employer. 
All Rights Reserved. ©1983 - 2018, Lane Community College SBDC