Big Impact On Small Business
Businesses that partner with SBDCs get started, create jobs, access capital, grow sales and prosper.
Helping Build Lane County's Best Businesses
Through our work with SBDC clients in Lane County, we strive to help create new jobs and improve the economic vitality of our communities.
Here are our Center's economic impact numbers.
Message from the President of Lane Community College
Welcome to Lane Community College and congratulations on your choice to attend one of Oregon's premier community colleges!  I am honored to join you in your journey as I start my first year as Lane's seventh president. For more than 50 years, Lane has provided exemplary education, training and personal enrichment programs for our community, earning a national reputation for excellence, innovation and sustainability.
You have chosen a college that transforms lives through learning both in the classroom with highly qualified faculty and outside of the classroom through our many support services and activities. While you are here, I invite you to use our bookstore, browse the library, find a favorite place to study, and become a part of the Lane community by joining a club, playing a sport, or meeting new people who will help you better understand the world in which you live.
At Lane, you are never far from a campus center. Whether you enjoy a downtown vibe or a coastal setting, we have a place for you to study and complete your degree or certificate. We also have a comprehensive offering of online courses to help you complete your goal from any location at a time convenient to you.
All of us at Lane are here to ensure that you have a personalized educational experience that will help you achieve your goals. Lane Community College transforms lives through learning—we're here for you.
I look forward to seeing you on campus and I wish you a happy, healthy and memorable year at Lane!
—Margaret A.Hamilton, Ph.D., President of Lane Community College, Eugene Oregon
Bienvenido a Lane Community College
¡Bienvenido a Lane Community College y felicitaciones por escoger a una de las mejores escuelas comunitarias en Oregon! Me siento honrada de acompañarlo en su jornada en este mi primer año como la séptima presidenta de Lane.  Por más de 50 años, Lane ha ofrecido una educación ejemplar, capacitación y enriquecimiento personal a nuestra comunidad, haciéndola merecedora de una reputación de excelencia, innovación y sostenibilidad a nivel nacional.
Usted ha elegido una escuela que transforma la vida de los estudiantes a través del aprendizaje, en el aula, con profesores altamente calificados, y fuera del aula, con  múltiples servicios de apoyo y actividades.  Como estudiante, le invito a usar nuestra librería; a visitar nuestra biblioteca; a buscar un lugar favorito para estudiar; y a formar parte de nuestra comunidad, uniéndose a un club, practicando un deporte, o relacionándose con nuevas personas; todo esto le ayudará a entender mejor el mundo que le rodea.
Lane tiene diferentes campus, pero ninguno está lejos del campus principal.  Ya sea en el  centro de la ciudad, o en la costa, siempre habrá un lugar para que usted estudie y termine su carrera o saque un certificado. También ofrecemos una buena selección de cursos a través del internet para que le asistan en completar sus metas, a la hora o sitio que más le convenga a usted.
En Lane todos estamos aquí para asegurarnos de que usted tenga una experiencia educativa personalizada que soporten sus objetivos.  Lane Community College transforma vidas a través del aprendizaje: estamos aquí para usted.
Espero poder verle en el campus y desearle un feliz, saludable y memorable año escolar en Lane!
Message from the SBA's Regional Administrator
Oregon's Small Business Development Center Network is a true champion of small business. They provide the tools, the information and the support that small businesses need to become successful.
OSBDCN has created an environment in which the spirit of entrepreneurship can thrive. I consider them a valued and vital partner to SBA efforts to help small businesses in the Portland District to start, grow and succeed.
– Calvin W. Goings, Regional Administrator, Region 10: Oregon, Washington, Idaho and Alaska, US Small Business Administration (SBA)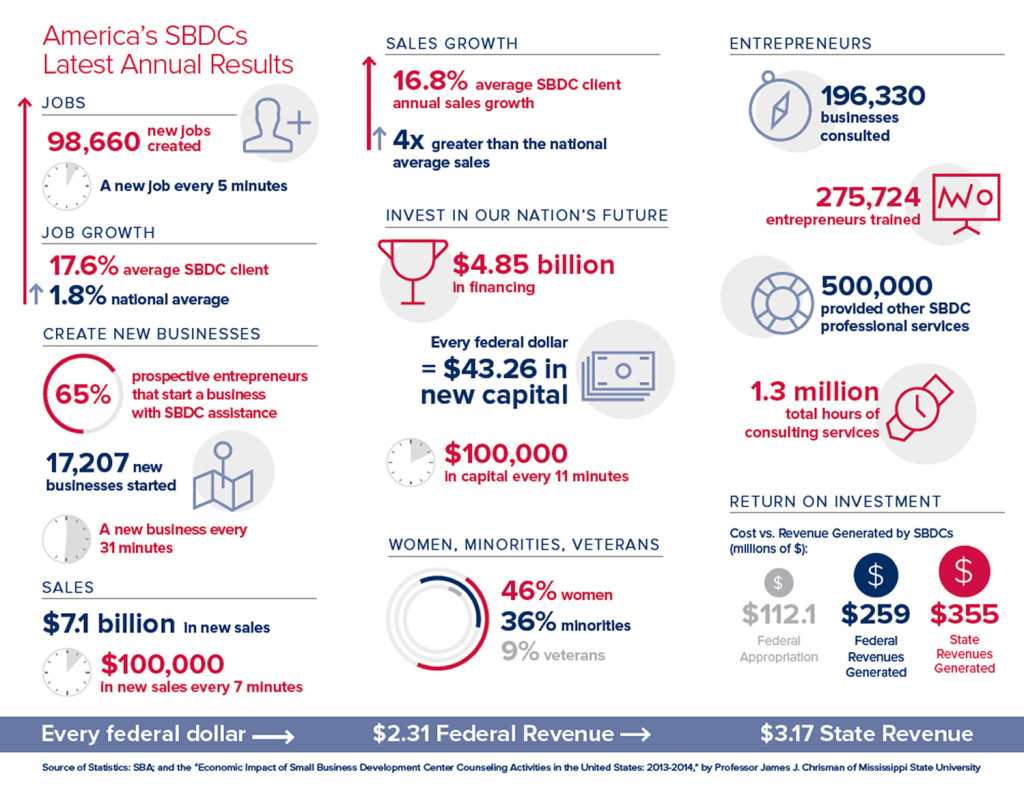 Message from the State Director
To all who appreciate Oregon's small businesses:

Since 1983, the Oregon Small Business Development Center Network has helped our state's entrepreneurs prosper.
During these decades, our conveniently-located 19 Small Business Development Centers (SBDCs) have provided more than 156,000 current and prospective business owners with professional, one-on-one advising services.
Additionally, more than 575,000 individuals have attended business management workshops and classes throughout the state. Oregon's small businesses have blazed the trail toward economic vitality, and the SBDCs' client companies have led the way. In every corner of our state, businesses we've assisted with marketing strategies, access to capital, exporting, government contracting, human resources management and other critical issues have catalyzed their local economies.
Oregon's SBDCs continue to support small businesses in every sector—at every stage of their life cycle. In fact, many of the businesses we helped start years ago have returned to their local SBDCs for succession planning guidance. Currently, many clients seek our services to help them utilize social media and broadband technologies to help them improve their business practices. Our efforts and impacts would not have been possible without the stalwart support of:
Our hosts—all 17 Oregon community colleges, Eastern Oregon University and Southern Oregon University
The US Small Business Administration
The State of Oregon—via Business Oregon, the Oregon Department of Transportation and the Oregon Public Utility Commission
Please visit our website at www.BizCenter.org for
up-to-date information on our services, resources, and successes.
Quick facts about OSBDCN
The OSBDC Network, established in 1983 by the US Small Business Administration and the Oregon Legislature.
Oregon's 19 SBDCs are among more than 1,000 Small Business Development Centers throughout the United States and its territories.
Our core functions include advising, training and providing information, referral services for new and existing small businesses.
All of our business advisors are experienced entrepreneurs with real-world wisdom.
We provided advising and training services to more than 8,800 business clients in 2015.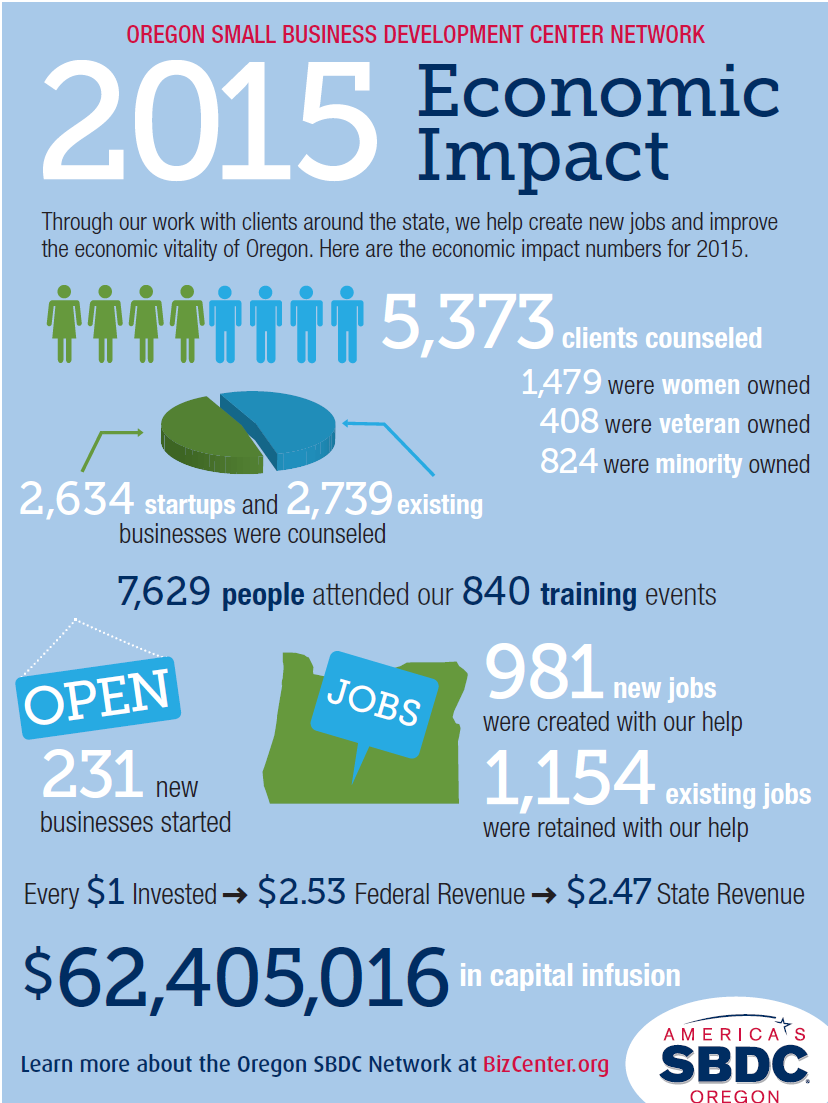 According To Independent Surveys
of our clients say that they would recommend our services to other businesses.
of clients said that SBDC programs were "very helpful" or "somewhat helpful."
of clients were "very satisfied" or "somewhat satisfied" with SBDC services, with 70% being "very satisfied."
Oregon Small Business Development Centers are funded in part through a cooperative agreement with the U.S. Small Business Administration, and by the Oregon Business Development Department. Lane Community College is the primary funding agent. Programs and services are provided to the public on a non-discriminatory basis. Language assistance services are available for limited English proficient individuals. 
Lane Community College 
Small Business Development Center
101 W. 10th Ave., Ste. 304, Eugene OR 97401
541.463.6200 
Lane is an AA/EEO/Veterans/Disabilities Employer. 
All Rights Reserved. ©1983 - 2018, Lane Community College SBDC