Cottage Grove Area Chamber of Commerce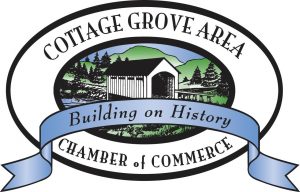 Promoting Cottage Grove's economy and business environment so its citizens and businesses will prosper.
---
Description of Services: The Chamber's number one goal is to create a strong local economy. All of the programs and benefits supported by your membership investment go toward achieving that goal. Your membership is also a commitment to the entire community and a pledge of support for the economic growth and vitality of the Cottage Grove area.
Promote Your Business
Support Your Business
Expose Your Business
Recognize Your Business
Fee Structure: membership organization
Service Area: Cottage Grove
---
Contact: Shauna Neigh, CEO
Email: info@cgchamber.com
Phone: 541-942-2411
Website: cgchamber.com
---
Areas of Support:
Networking | 3 – Expansion | 4 – Maturity | Communications and PR | Sales and Marketing