SHRM Essentials of HR Management®
Sha
r
pen
Your Fundamental HR Skills To Face Today's HR Issues.
Human resource issues impact every company in some way. That's why it's important to understand the fundamental issues surrounding HR today. SHRM, the leading global HR professional organization, has developed the SHRM Essentials of HR Management course which provides an introductory overview of the human resource function. Whether you are new to HR or if HR is one of many roles you fulfill at your company, this program, offered in partnership with SHRM, covers the key HR topics you need to know.
Build A Solid Foundation In HR Management Skills.
By covering a breadth of practical HR topics, the SHRM Essentials of HR Management provides the knowledge to perform daily tasks. Through this course you will also:
Review key pieces of federal legislation on sexual harassment, age discrimination and the Family and Medical Leave Act (FMLA).
Gain insights into employee recruitment and selection while avoiding legal pitfalls.
Enhance your skills related to total compensation systems, pay increases and incentives, and employee benefits
Increase your knowledge of employee orientation, onboarding, professional development, and training.
Who Should Take This Course?
Designed as a thorough introduction to HR basics, the SHRM Essentials of HR Management course provides a solid foundation in human resource management that improves HR job performance across job titles and functions.
New and junior HR practitioners who need to increase their knowledge base.
Small business owners or office managers who perform the HR function for their company.
Business managers who want to learn basic HR best practices to avoid costly litigation.
New or experienced managers interested in learning more about employee management skills.
Representatives selling or supporting HR systems and services.
International HR personnel wishing to increase their knowledge of U.S. HR practices.
Job seekers who are investigating HR as a new career option or want to have HR as a skill for future positions
Benefits For Employees
As the leading advocate for HR professionals worldwide, SHRM conducted an intensive study that included employers, academics and practicing HR professionals at all levels. This research helped to define the competencies and knowledge relevant to today's HR professional. Through these efforts, a clear picture emerged of what is necessary for HR professionals to become future leaders.
Benefits For Companies
The SHRM Essentials of HR Management course can help companies increase HR knowledge that is critical to overall business success. This program:
Reduces company's risk of potential high-cost litigation.

Promotes a consistent understanding of the HR function to non-HR management.

Offers professional development for divisional or departmental supervisors to ensure HR compliance.

Develops a common dictionary of HR terms for the entire organization.

Enhances the importance of the HR function within your company.
The SHRM Essentials Of HR Management Course Content And Materials
Newly updated with the latest HR developments, the SHRM Essentials of HR Management program combines print materials with online study tools to provide a blended learning experience.
Print Materials
Human Resource Management

.   Gain a clear understanding of the HR function.

Employment Law

.   Enhance your ability to apply key HR legislation.

Recruitment and Selection

.   Develop important skills for selecting employees.

Compensation and Benefits

.   Learn the key elements of a total compensation system.

Employee Development

. Obtain an understanding of orientation, development

,

and training.

Performance Management

. Discover the purpose and process for performance evaluation
The participant's Activities Book contains copies of the instructor slides with room for notes and application activities.
Small Investment In Quality Training, Big Payback
Backed by SHRM's track record of providing quality HR training, the SHRM Essentials of HR Management covers the topics you need to meet key HR challenges that are relevant to you and your company. In less than 20 hours of training time, you can cover the issues you need to reduce potentially costly lawsuits.
Developed by leading HR experts, HR practitioners, and legal counsel, the SHRM Essentials of HR Management course covers introductory HR topics in a condensed, easy-to-understand format. The straightforward format ensures that HR concepts can be mastered and applied to real-life situations.
You'll benefit from the shared experiences of your instructor and peers, while learning techniques
for handling HR challenges through interactivity case studies designed to make you feel comfortable dealing with HR issues. In addition, you'll receive a Certificate of Achievement from our institution and have the opportunity to earn Professional Development Credits (PDCs) or recertification hours upon completion.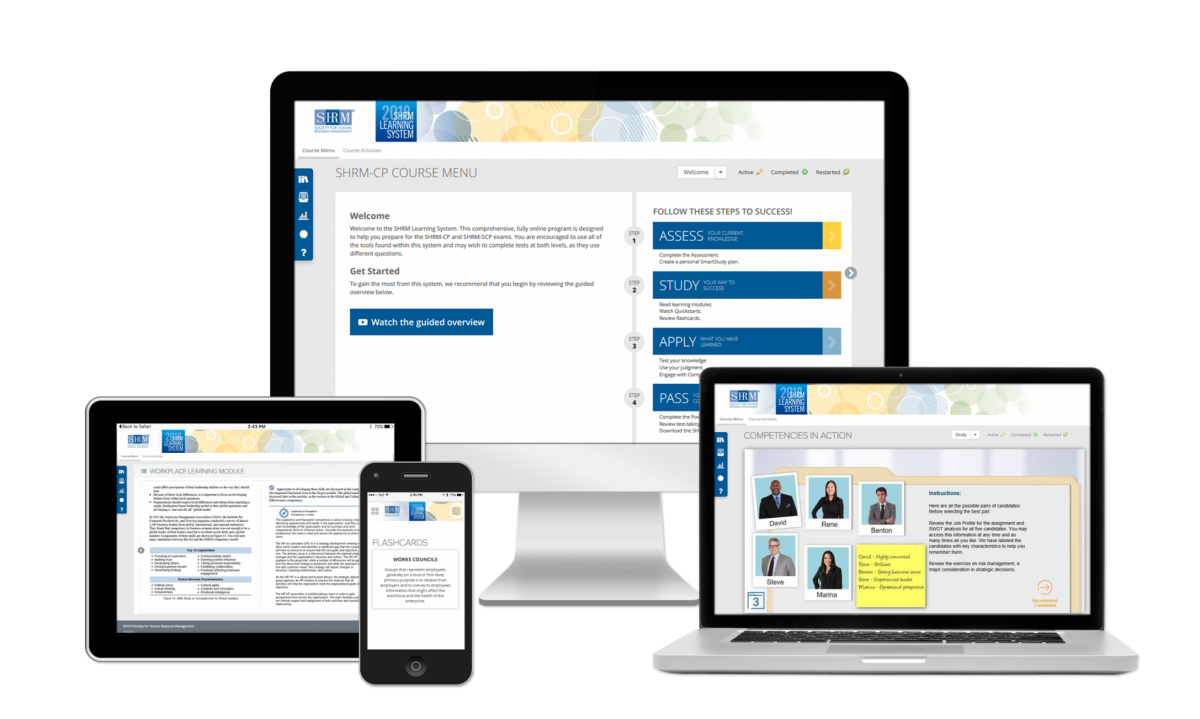 Web-based Study Tools And Resources
The Web-based tools are designed to support the print materials, provide added opportunities to review and master HR concepts, and gain confidence. The tools are available to all SHRM Essentials of HR Management program participants.
EVALUATE Your Current Knowledge
Pre-test to gauge current knowledge

SmartStudy tool to develop a study plan

Reports that

measure progress
LEARN About Key HR Topics
Module-specific test for each module to check mastery of key information

Glossary of key terms

for quick reference

Resource

C

enter that includes additional r

esources and reference material
DEMONSTRATE Your HR Understanding                                 
Threaded case study featuring real-life scenarios to apply concepts learned throughout the course

Post-test to assess learning gain

Certificate of Achievement

awarded to those who pass the post-test with a score of 80% or higher
Support and Guidance from SHRM Certified Instructors
At the Lane SBDC, you have the confidence of knowing our instructors are highly experienced, SHRM-certified professionals who are ready to guide you through the preparation process. Dennis Carr, M.S.I.R./SPHR, Chief Human Resource Officer, Lane Community College is the primary instructor/coordinator for all Society For Human Resource Management courses. Dennis can be reached at carrd@lanecc.edu for class content questions.
Notes and Other Details
This course has an early registration deadline due to book orders, so please register before deadline. Also there is an extra fee assessed, if you register after the deadline.
Call the SBDC for dates, registration details and pricing at 541.463.6200.