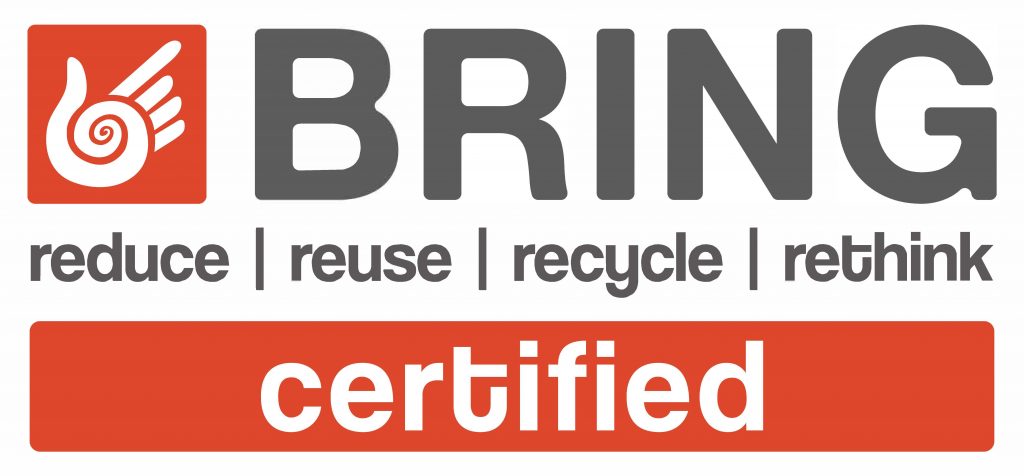 BRING strives to provide vision, leadership, and tools for living well on the planet we share. The Rethink Business program helps businesses protect the environment, conserve natural resources, and save money by providing resources, tools and hands-on technical assistance..
---
Description of Services:Certification:
We certify businesses working hard to reduce waste, save natural resources, prevent pollution and build a stronger, more resilient economy.   The first step in getting an organization certified is to fill out our checklist which addresses categories including recycling, waste prevention, operations, energy, water, and water quality.  Businesses can achieve Rethink certification by complying with 50% of the actions per category in our program checklist.
Consulting:
We provide free, hands-on technical assistance to organizations looking to prevent waste and conserve resources.  Resources include detailed recommendation reports, recycling boxes, aerators, storm drain markers, food waste bins, and labels & signage for waste receptacles.
Research:
We use cutting-edge research and industry best practices to help organizations reduce waste through a variety of diverse actions.  Most of our recommendations are based on Oregon DEQ's Materials Management 2050 Vision and framework for action.  We also offer fee-based waste assessment studies to help organizations identify potential material diversion and cost saving opportunities.
Marketing:
Certified businesses have access to a variety of marketing benefits including:
Use of the Rethink logo in your marketing materials.
Rethink window decal.
Press kit with tools to tell your Rethink story.
Social media announcements by

 

BRING

.
Listing in local Register Guard newspaper and Eugene Magazine.
Listing in

 

BRING

's quarterly newsletter, UsedNews.
Listing in our Rethink Business Directory.
Spotlight at sustainability events.
Award plaque to display at your business.
Free pass to a GreenLane Sustainable Business Network luncheon.
Eligibility for the Mayor's Bold Steps award (City of Eugene businesses).
Fee Structure: All Rethink services are free of charge.  Waste assessments are fee-based and determined by specific scope of work.
Service Area: Lane County
---
Contact: Christine Scafa, Director of Sustainable Business Development
Email: christines@bringrecycling.org
Phone:  541-746-3023
Website: bringrecycling.org
---
Areas of Support:
Sustainability | 3 – Expansion | 4 – Maturity | 5 – Renewal | Business Processes | Recycling / Waste Diversion