SHRM CP/SCP Certification Test Prep Course
Move Ahead in Your Career and Make a Difference
Are you ready to make an impact that will not only benefit your organization, but help ensure continued career success? Become the most qualified and valuable HR professional you can be with SHRM certification.
The SHRM Certified Professional (SHRM-CP®) and SHRM Senior Certified Professional (SHRM-SCP®) are the only behavioral competency-based HR certifications. This means you'll have the answers AND know what to do on the job. SHRM certifications can build and strengthen your real-world value to yourself, your organization and your future.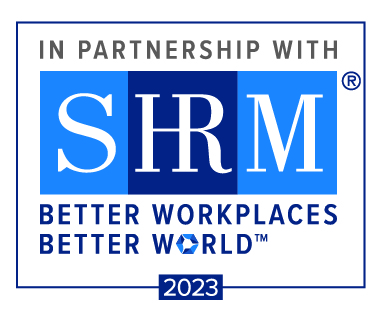 For Business Owners, Managers, Or Human Resource Professionals
Seeking continuing professional development and a broad overview of the field
Preparing to take the SHRM – Certified Professional℠ (SHRM-CP) or SHRM -Senior Certified Professional℠ (SHRM-SCP) certification examinations administered by SHRM.
Benefits Of Enrolling In This Course
Experienced instructors present the SHRM Learning System® materials in an easy-to-understand format.
Remote learning for your convenience.
A structured learning environment to keep you on schedule.
Opportunity to build your peer network.
Course fees often qualify for tuition reimbursement.
Continuing education units (CEUs) for successful completion of the class.
This comprehensive and dynamic system helps you prepare with:
Learning Modules.
Practice Questions.
Interactive Study Tools.
Virtual Host & Instructional Videos
Flashcards printable or online. 
Bonus Resources.
Before Your Course
Your SHRM Learning System (the printed learning modules) will be delivered before the program begins (approximately one week after you register). Be sure to explore the platform and begin familiarizing yourself with the content, so your instructor can help you build on your foundational knowledge. Act early to maximize your pre-program studies.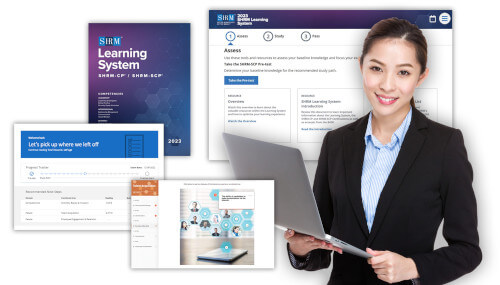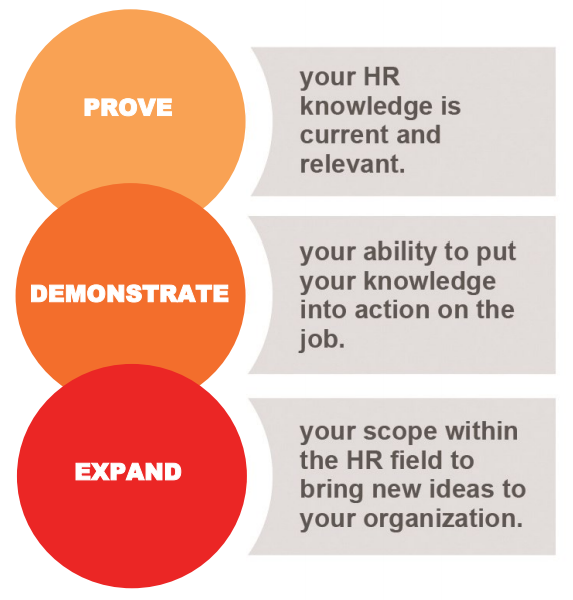 Exam Information
You have the option of taking your SHRM-CP or SHRM-SCP exam in-person at an authorized testing center or from home through live remote proctoring.
Once you complete the SHRM certification application process, you will receive an Authorization to Test (ATT) letter with instructions on how to schedule your exam date and delivery option.
Make sure to verify the Exam Windows HERE.
SHRM Body of Applied Skills and Knowledge™ (SHRM BASK™)
The SHRM Body of Applied Skills and Knowledge™ (SHRM BASK™), formerly the SHRM Body of Competency and Knowledge® (SHRM BoCK®), represents the evolution of the SHRM Competency Model by further defining the knowledge areas in addition to the behavioral competencies.
The SHRM BASK was developed through a series of large-scale research studies that incorporated the viewpoints of thousands of HR professionals from around the world. It was most recently updated in 2021, and now includes nine behavioral competencies as well as one technical competency.
The SHRM Learning
System Delivers The Most 
Comprehensive, Flexible And Effective SHRM-CP and SHRM-SCP Exam Preparation.
Designed using a proven approach for teaching adult learners, this system offers a personalized SmartPath™ learning experience that is designed to dynamically adjust based on your progress and proficiency. Real-time results allow you to use your time wisely and increase readiness for the SHRM-CP and SHRM-SCP exams. There's no better way to successfully prepare for SHRM certification.
SHRM Certification Exam Success
A Personalized Learning Experience
A custom learning experience that identifies HR topics you've already mastered and those you haven't, to help guide you with suggested next steps throughout your studies.
Enhanced, Topic-level Learning
HR knowledge and competencies are broken down into 375+ unique topic areas and related resources to help you better understand and master the concepts in the SHRM BASK that are tested on the SHRM-CP/SHRM-SCP exams.
Real-time Knowledge Gap Analysis
Real-time results and detailed feedback from your learning progress and quiz scores help guide your course-wide and individual study priorities and reach your goal more efficiently.
A Study Plan on Your Schedule
Organize your studies on your unique schedule by prioritizing the topics based on your knowledge gaps. Small, connected HR topics allow for shorter blocks of study time. The countdown clock reinforces your exam date goal, which provides a visual reminder to stay motivated and on track with your studies.
Resources to Boost Exam Confidence
Take advantage of flashcards, real-world HR knowledge and competency connections, practice test questions and more to make sure you're ready for your SHRM-CP or SHRM-SCP exam.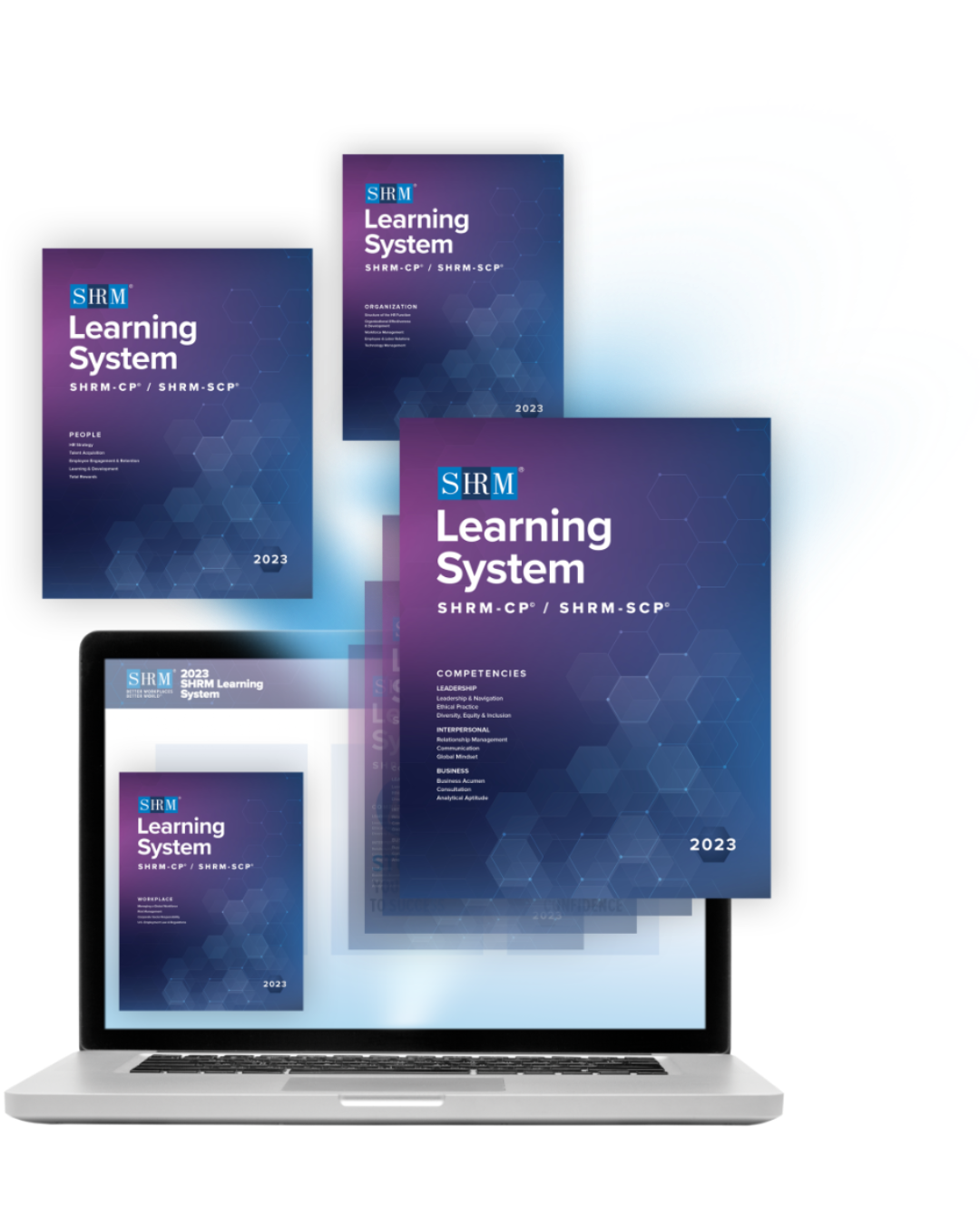 MODULE // HR COMPETENCIES
Leadership & Navigation
Ethical Practice
Business Acumen
Consultation
Critical Evaluation
Relationship Management
Global & Cultural Effectiveness
Communication
MODULE // PEOPLE
HR Strategic Planning
Talent Acquisition
Employee Engagement & Retention
Learning & Development
Total Rewards
MODULE // ORGANIZATION
Structure of the HR Function
Organizational Effectiveness & Development
Workforce Management
Employee & Labor Relations
Technology Management
MODULE // WORKPLACE
HR in the Global Context
Diversity & Inclusion
Risk Management
Corporate Social Responsibility
U.S. Employment Law & Regulations (U.S. Only)
Find Success With Expert Leadership And Guidance
Attending our course is the most effective way to prepare to pass the SHRM-CP and SHRM-SCP exams.
Learn from a certified instructor who provides expertise, insights, and one-on-one guidance.
Network, share experiences, and discuss topics with a diverse group of HR professionals.
Stay on track to earn your certification with a structured learning experience and support.
Take advantage of funding options, such as corporate tuition reimbursement.
At Lane SBDC, you have the confidence of knowing our instructors are highly experienced, SHRM-certified professionals who are ready to guide you through the preparation process.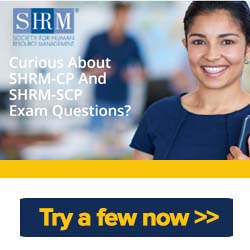 Advance Your Career
Not sure about certification, but still want to improve your HR skills? Then SHRM Learning System could be the perfect fit for you. The course provides a comprehensive and accelerated option for professional development. Participants gain a generalist viewpoint, refresh key ideas and concepts, strengthen their understanding of core behavior and technical competencies and increase productivity in the workplace.
Four Steps To SHRM Certification
Determine your eligibility.
Apply for the SHRM-CP or SHRM-SCP exam.
Prepare for the certification exam.
Take the exam and leverage your certification.
For complete certification details, visit  shrmcertification.org.