SHRM Learning System®
"The SHRM Learning System is an outstanding certification prep program! My instructor brought the material alive with his 30+ years as a successful HR practitioner. The classroom discussions were always lively, and the opportunity to network with HR peers was wonderful. I highly recommend the SHRM Education Partner Program to anyone contemplating the certification exam. I am thrilled to be a SHRM-SCP, and I credit the course for my success." – SHRM Learning System Course Participant
Define Yourself As An HR Leader With SHRM Certification
Earn the SHRM Certified Professional (SHRM-CP®) or SHRM Senior Certified Professional (SHRM-SCP®) and prove your knowledge, competency, and value to colleagues and to employers looking for a competitive edge in today's global economy.
Commit To Your Career
SHRM's global HR credentials, SHRM-CP and SHRM-SCP, offer growth, advancement and recognition. These credentials are based on extensive global research involving employers, academics, and practicing HR professionals at all levels to ensure they maintain an industry-leading level of excellence and relevance in our ever-evolving profession.
By becoming a SHRM-CP or SHRM-SCP, you prove your knowledge, competency and value to colleagues and to employers looking for a competitive edge in today's global economy. Wherever your career takes you, your SHRM certification will define you as an HR expert and leader.
Designed For Business Owners, Managers, Or Human Resource Professionals
Seeking continuing professional development and a broad overview of the field
Preparing to take the SHRM – Certified Professional℠ (SHRM-CP) or SHRM -Senior Certified Professional℠ (SHRM-SCP) certification examinations administered by SHRM
SHRM Body Of Competency And Knowledge™ (SHRM BoCK™)
As the leading advocate for HR professionals worldwide, SHRM conducted an intensive study that included employers, academics and practicing HR professionals at all levels. This research helped to define the competencies and knowledge relevant to today's HR professional. Through these efforts, a clear picture emerged of what is necessary for HR professionals to become future leaders.
The SHRM-CP and SHRM-SCP certifications are built upon the SHRM BoCK, which is more than an exam outline. It defines the standards for knowledge, strategies and competencies required for effective HR professionals around the world.
To maintain this industry-leading level of excellence and relevancy, SHRM brought together some of the best minds in the HR profession to review and validate the current SHRM BoCK, which shaped the 2017 updates.
Benefits Of Enrolling In This Course
Experienced instructors present the SHRM Learning System® materials in an easy-to-understand format.
Training close to home.
A structured learning environment to keep you on schedule.
Opportunity to build your peer network.
Course fees often qualify for tuition reimbursement.
3.5 continuing education units (CEUs) for successful completion of the course.
Preparation Tools Designed For Success
The SHRM Learning System delivers the most comprehensive, flexible and effective SHRM-CP and SHRM-SCP exam preparation. Designed using a proven approach for teaching adult learners, this system helps you understand, apply and engage with behavioral competencies and HR Knowledge. Online learning modules, based on the SHRM BoCK, and interactive study tools, testing your knowledge and decision making skills, are incorporated into the study process. There's no better way to successfully prepare for the SHRM certification exams.
As an official SHRM Education Partner, we are able to build our course on the SHRM Learning System, giving you access to the most effective and up-to-date exam preparation tools available.
Effective and proven. Candidates who use the SHRM Learning System consistently beat the average exam pass rate.
One source for knowledge and application. All the study tools you need to learn, reinforce, and test your knowledge.
Most current and relevant. The SHRM Learning System has been updated to align with the SHRM BoCK.
Convenient 24/7 online access to your study tools from any mobile device, tablet, or computer.
The Four Learning Modules
MODULE // HR COMPETENCIES
Leadership & Navigation
Ethical Practice
Business Acumen
Consultation
Critical Evaluation
Relationship Management
Global & Cultural Effectiveness
Communication
MODULE // PEOPLE
HR Strategic Planning
Talent Acquisition
Employee Engagement & Retention
Learning & Development
Total Rewards
MODULE // ORGANIZATION
Structure of the HR Function
Organizational Effectiveness & Development
Workforce Management
Employee & Labor Relations
Technology Management
MODULE // WORKPLACE
HR in the Global Context
Diversity & Inclusion
Risk Management
Corporate Social Responsibility
U.S. Employment Law & Regulations (U.S. Only)
Choose Expert Leadership And Guidance
Attending our course is the most effective way to prepare to pass the SHRM-CP and SHRM-SCP exams.
Learn from a certified instructor who provides expertise, insights and one-on-one guidance.
Network, share experiences, and discuss topics with a diverse group of HR professionals.
Stay on track to earn your certification with a structured learning experience and support.
Take advantage of funding options, such as corporate tuition reimbursement.
Support And Guidance From SHRM Certified Instructors
At the Lane SBDC, you have the confidence of knowing our instructors are highly experienced, SHRM-certified professionals who are ready to guide you through the preparation process. Dennis Carr, M.S.I.R./SPHR, Chief Human Resource Officer, Lane Community College is the primary instructor/coordinator for all Society For Human Resource Management courses. Dennis can be reached at carrd@lanecc.edu for class content questions.
Course Content
The SHRM Learning System® course features printed workbooks, over 1,500 test questions, an Online Resource Center, an interactive case study, and the SHRM-SCP℠ Preparation Book, designed especially for SHRM-SCP℠ candidates.
The SHRM Learning System® provides the most comprehensive and effective SHRM-CP™/SHRM-SCP™ training program through a blended format of printed workbooks and web-based study tools. This easy-to-use system includes three key elements:
1. Printed Workbooks
Five print modules teach the body of knowledge tested in SHRM-CP℠ and SHRM-SCP℠ exams.
Printed glossary of terms and subject index provided for each module.
Easy-to-identify icons highlight key content and links to additional resources.
SHRM-SCP℠ Preparation Book specifically designed for SHRM-SCP℠ candidates.
2. Online Tools With Mobile Access
Practice Tests
Assessment Test to gauge current knowledge.
Module-specific tests to check mastery of key topics
Post-test that mirrors the HR Certification exam to increase test taking confidence
Flashcards
Over 750 covering all six modules
Glossary
Comprehensive reference for easy reference online or while reading the materials
Smart Study Tool
Features real-life scenarios and questions to apply concepts
3. Resource Center
HR Updates highlighting up-to-date legislative changes and new HR developments
Ask The Expert feature for individualized follow-up questions
Links to key HR information cited in the modules
Feedback feature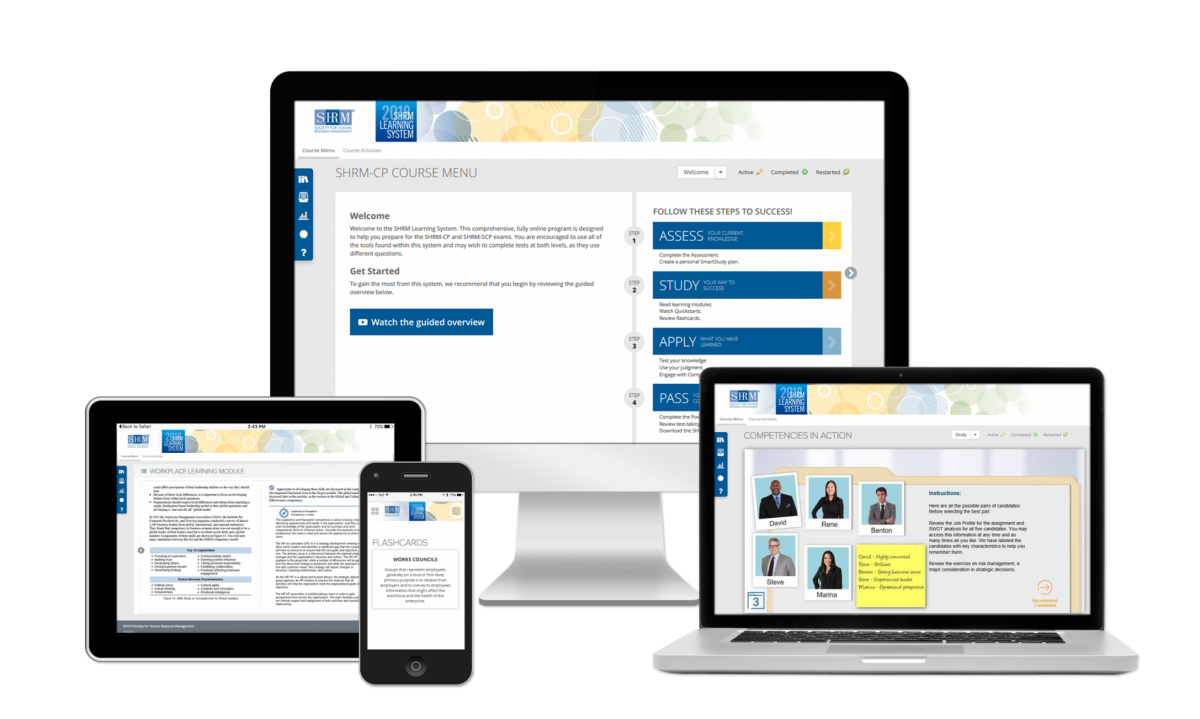 Online Resources
Assess Your Current Knowledge
Complete an online assessment to determine current knowledge and identify areas for improvement
Create a personal SmartStudy plan to identify learning priorities, estimate study time and create a roadmap to success.
Study Your Way To Success
Read learning modules based upon the SHRM BoCK online or offline with two flexible options. When you're online, navigate quickly and easily from reading a module to completing questions and other activities. For offline access, download the e-reader files to your device.
Review Quickstart videos to provide an overview of the foundational elements for each of the HR behavioral competencies.
Study Flashcards in online or printed format to reinforce your memory of key terms and concepts.
Apply what you have learned
Utilize over 1,500 practice questions to assess your competencies and test your knowledge and understanding.
Engage in six "competencies in action" activities that put you in the role of an HR professional who is faced with unique challenges. Analyze the situation, consider the background information, complete the activities and make your decision!
Pass Your Exam With Confidence
Complete a post-test which mimics the SHRM-CP/SHRM-SCP exam format and weighting to build exam day confidence.
Review test-taking tips and download the SHRM Certification Handbook.
New "Plan To Pass" Tool
Setting a realistic study plan is critical to your success. SHRM® has created a valuable tool called "Smart Study Tool" that guides your studies. It takes your score from the pretest (included in the SHRM Learning System®) factors in your level of HR experience and creates a study plan based on areas that require the most attention. You can also track your progress as you study to ensure you're reaching your goals.
Investing In Yourself
When you complete this course, you'll be prepared to take the SHRM-CP℠ or SHRM-SCP℠ exam with confidence.
In addition to certification preparation, the SHRM Learning System® helps participants develop a generalist point of view, refresh key ideas and concepts, strengthen their understanding of core competencies and increase productivity. Long after completing the course, Learning System materials will serve as a valuable day-to-day operations manual, providing answers to a wide range of HR challenges.
Four Steps To SHRM Certification
Determine your eligibility.
Apply for the SHRM-CP or SHRM-SCP exam.
Prepare for the certification exam.
Take the exam and leverage your certification.
For complete certification details, visit  shrmcertification.org.