Written By: Suzanne Penegor
When Robin Brown-Wood came to the Lane Small Business Development Center to discuss her new business idea, she had several business ideas to consider. The question was which one would be the best one?
By meeting with a Lane SBDC business advisor to discuss her ideas as a sounding board, Brown-Wood was able to make the choice that best suited her business plan. Brown-Wood now has an established local catering business and has developed a line of organic dry rubs that can also be used as pastes and dips. The line is ALMA Foods and is an extension of her catering business.
Lane SBDC business mentors helped Brown-Wood develop her Marketing plan and her branding for her business. Her slogan, "Food For The Body And Soul" reflect her fusion soul food brand of catering. As she says, Alma means soul in Spanish.
Brown-Wood says, "The greatest passion for me when cooking is not just the act of creating good food, but turning people on to the familiar presented in an unfamiliar way; all their senses having been aroused and their horizons expanded. No words need be spoken; their body language tells the story. I know that it is not just their stomachs I've filled but, in some small way, their souls I have touched."
Brown-Wood has always been a leader. She was an officer and commanded a Military Police Company during the Desert Storm conflict. Brown-Wood approached the Eugene Chamber of Commerce to spearhead a new Minority Business outreach program to promote and support minority-owned businesses. She is a long-time volunteer who works with local nonprofits such as Food For Lane County and the SMART program to benefit our community.
Both of her businesses can be found at either almacatering.net or almafoods.net. When Brown-Wood started her new product line, she opened a Facebook page for Alma Foods. Her Alma Foods gourmet organic dry rubs can be found now in local retail outlets such as Newman Fish Market, Long's Meat Market, Fisherman's Market and Capella Market. Brown-Wood's website lists the local retailers and Whole Foods stores where her product line can be found.
She does in-store demonstrations to show how to use her organic dry rubs. Brown-Wood experimented with packaging ideas for her organic dry rubs until she found the desired branding look. Her product line of organic dry rubs include: Meyer Lemon/Olive, Lemongrass, and Portuguese Red Pepper.
Brown-Wood caters large business events as well as private functions such as weddings and in-home dinner parties. She has catered groups of 300 and up with creative menus and her unique fusion soul food recipes, many learned from a great line of cooks in her family—especially her mother.
Brown-Wood is looking forward to the opening of Whole Foods in Eugene this year because she has had her new product line available in Portland Whole Foods stores. You can also find Brown-Wood at various business events such as the annual Eugene Chamber of Commerce Biz To Biz Expo at the Lane County Fairgrounds, the Home/Garden Show, the Truffle Festival Marketplace and charity events for Children's Miracle Network. Brown-Wood is an accomplished public speaker, speaking at various community networking functions and at local nonprofits she believes in.
She also plans on expanding the current product line by launching two new exciting flavors in the near future.
Learn More About Alma Food's & Catering
Check out this client video with Alma Catering!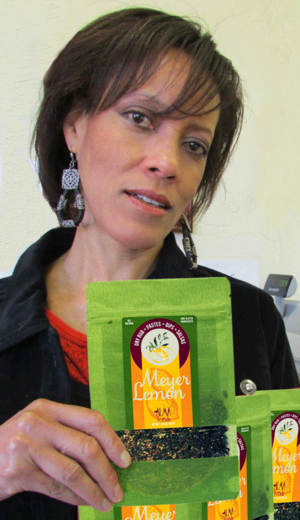 Oregon Small Business Development Centers are funded in part through a cooperative agreement with the U.S. Small Business Administration, and by the Oregon Business Development Department. Lane Community College is the primary funding agent. Programs and services are provided to the public on a non-discriminatory basis. Language assistance services are available for limited English proficient individuals. 
Lane Community College 
Small Business Development Center
101 W. 10th Ave., Ste. 304, Eugene OR 97401
541.463.6200 
Lane is an AA/EEO/Veterans/Disabilities Employer. 
All Rights Reserved. ©1983 - 2018, Lane Community College SBDC